Labiaplasties have been gaining popularity in recent years. Some patients have excess skin and mucosa in the genital labia minora which negatively affects comfort while getting dressed, exercising and having sexual intercourse.
Wedge resection
The wedge resection technique decreases the prominence and hyperpigmentation of the labia minora. A wedge is withdrawn on each side with either partial or full thickness depending on the anatomy of the patient. Regarding the dark pigmentation, it can be removed if central, however if the hyperpigmentation is along the entire length of the labia minora, trim may be necessary.

Wedge resection with extension
This is the technique most frequently used by Dr F. Caron for labiaplasties. There are some patients who have excess clitoral hood tissue – this wedge-tip excision technique modifies the excess of tissue around the clitoris and spreads forward on either side of the clitoris. The incision camouflages itself in the fold already present between labias minoras and majora.
Labia majora reduction
The labia majora are often reduced by different techniques such as fat grafting, direct resection, or radiofrequency.
Direct excision is done by camouflaging the scar in the fold between the labia minora and labia majora in an elliptical fashion. This procedure can sometimes be combined with labiaplasty but the recovery will be longer.
Reduction of clitoral excess
Excess skin on either side of the clitoris can be resected without labiaplasty if there is no excess in the labia minora. The incisions are camouflaged in the natural folds on each side of the clitoris.
Aging also affects the labia majora, making them lush and empty.
Dr. F. Caron will examine your anatomy and according to your wishes will advise you on the possible procedures of fat injection or fillers.
Studies have also shown very high patient satisfaction rates (over 95%).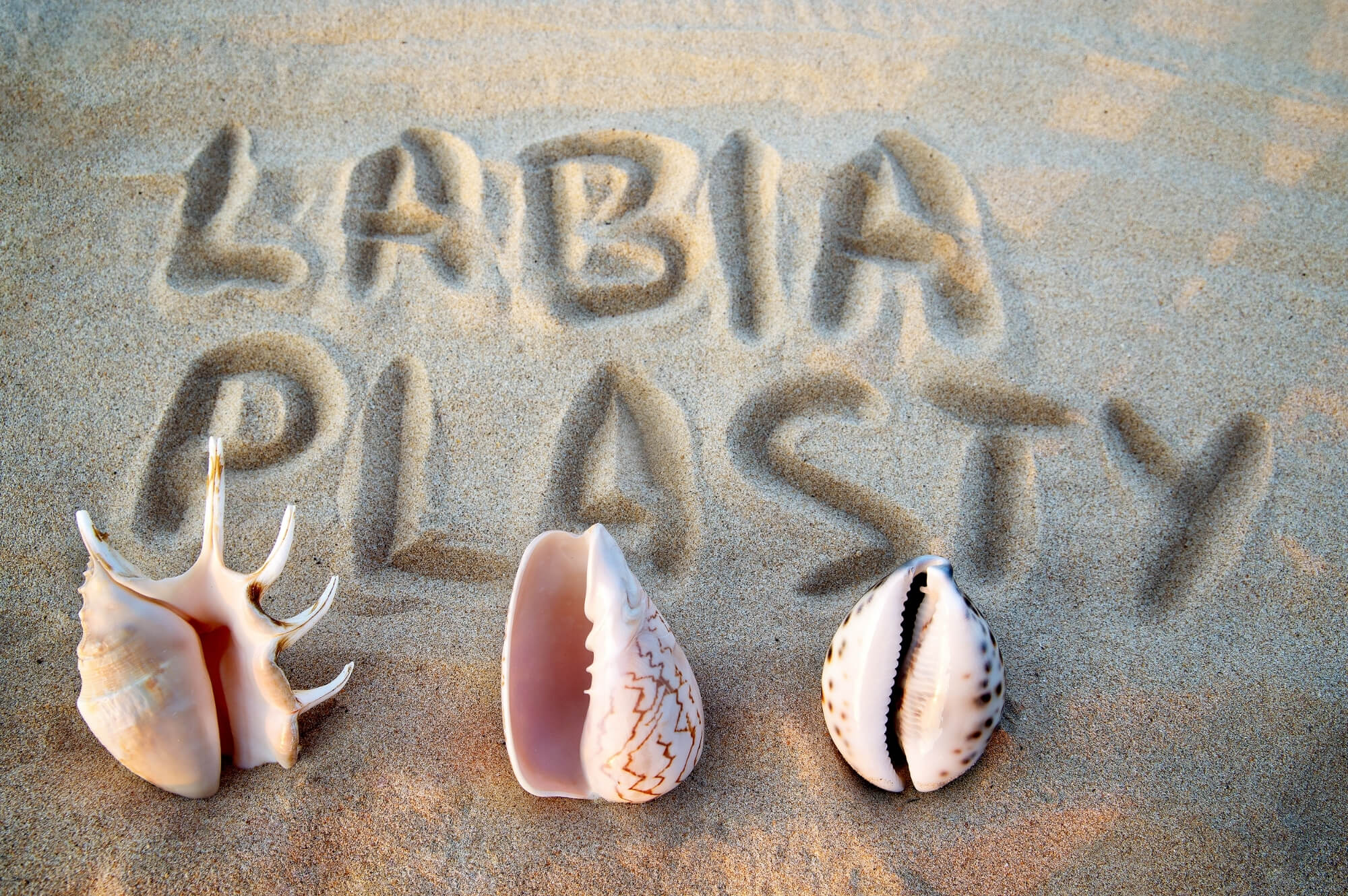 Each woman has unique vaginal lips and the procedure is adapted for each of them. During your first consultation with Dr F. Caron, she will discuss with you your expectations and desires but will also tell you honestly what is possible or not according to your anatomical particularities and your requests. Labiaplasty, also known as external vaginal surgery or nymphoplasty, is a procedure that shrinks or reorganizes the tissue covering the clitoris and the vaginal opening. The goal is also to better define the inner lips. Some patients will benefit from a simpler trim whereas more frequently Dr F. Caron uses the wedge technique described by Dr Gary Alter with or without extension to reduce the excess in the clitoral area. Dr F. Caron will offer you the best method that suits you and explain the advantages and disadvantages. Most women tolerate this procedure very well under topical cream anesthesia followed by local infiltration, listening to music for entertainment during the procedure which lasts approximately one hour. Most women are back to their daily activities within 3 to 5 days while recovering from a labiaplasty. The first 2-3 days are more painful, it is important to avoid exercise for 2 weeks and sexual activity (and tampon insertion) for 4-6 weeks. Usually, the incisions heal quickly and leave very inconspicuous scars. Post-operatively, you will receive a document indicating exactly what to do and what not to do.
It is important to consult a surgeon / cosmetic surgeon specializing in surgery of the labia minora. Your surgeon should put you at ease and listen to your concerns as well as inform you of the options to achieve the desired result, but also of the possible complications. It is important that patients understand the technique used, its advantages and disadvantages, and that they feel comfortable asking the questions of their surgeon.
You might hear the controversy that exists around this procedure. Some groups are against this procedure since according to them it is unnecessary and purely aesthetic. Dr. F. Caron explains to his patients that the decision is their personal choice in the same sense that a patient with a bump on her nose is planning a rhinoplasty or a patient with small breasts desiring an augmentation. All of these conditions are normal variations of the anatomy and do not require intervention. Patients must be free to choose whether they wish to live inconveniently, insecure or to act and do something about it.
Talk to an expert
We can support you in your approach and offer you a solution adapted to your needs.